Strict Standards: Non-static method JLoader::import() should not be called statically in /customers/4/9/a/stevnsvig.com/httpd.www/electronics/libraries/loader.php on line 186 Strict Standards: Non-static method JLoader::register() should not be called statically in /customers/4/9/a/stevnsvig.com/httpd.www/electronics/libraries/loader.php on line 71 Strict Standards: Non-static method JLoader::load() should not be called statically in /customers/4/9/a/stevnsvig.com/httpd.www/electronics/libraries/loader.php on line 161 Strict Standards: Non-static method JLoader::register() should not be called statically in /customers/4/9/a/stevnsvig.com/httpd.www/electronics/libraries/loader.php on line 138 Strict Standards: Declaration of ContentController::display() should be compatible with JController::display($cachable = false) in /customers/4/9/a/stevnsvig.com/httpd.www/electronics/components/com_content/controller.php on line 28 Strict Standards: Non-static method JLoader::import() should not be called statically in /customers/4/9/a/stevnsvig.com/httpd.www/electronics/libraries/loader.php on line 186 Strict Standards: Non-static method JLoader::import() should not be called statically in /customers/4/9/a/stevnsvig.com/httpd.www/electronics/libraries/loader.php on line 186 Strict Standards: Non-static method JLoader::import() should not be called statically in /customers/4/9/a/stevnsvig.com/httpd.www/electronics/libraries/loader.php on line 186 Strict Standards: Non-static method JLoader::register() should not be called statically in /customers/4/9/a/stevnsvig.com/httpd.www/electronics/libraries/loader.php on line 71 Strict Standards: Non-static method JLoader::load() should not be called statically in /customers/4/9/a/stevnsvig.com/httpd.www/electronics/libraries/loader.php on line 161 Strict Standards: Non-static method JLoader::register() should not be called statically in /customers/4/9/a/stevnsvig.com/httpd.www/electronics/libraries/loader.php on line 138 Strict Standards: Non-static method JLoader::import() should not be called statically in /customers/4/9/a/stevnsvig.com/httpd.www/electronics/libraries/loader.php on line 186 Strict Standards: Non-static method JLoader::load() should not be called statically in /customers/4/9/a/stevnsvig.com/httpd.www/electronics/libraries/loader.php on line 161 Strict Standards: Non-static method JLoader::register() should not be called statically in /customers/4/9/a/stevnsvig.com/httpd.www/electronics/libraries/loader.php on line 138 Strict Standards: Non-static method JLoader::load() should not be called statically in /customers/4/9/a/stevnsvig.com/httpd.www/electronics/libraries/loader.php on line 161 Strict Standards: Non-static method JLoader::register() should not be called statically in /customers/4/9/a/stevnsvig.com/httpd.www/electronics/libraries/loader.php on line 138 Strict Standards: Non-static method JLoader::import() should not be called statically in /customers/4/9/a/stevnsvig.com/httpd.www/electronics/libraries/loader.php on line 186 Strict Standards: call_user_func_array() expects parameter 1 to be a valid callback, non-static method JHTMLBehavior::caption() should not be called statically in /customers/4/9/a/stevnsvig.com/httpd.www/electronics/libraries/joomla/html/html.php on line 91 Strict Standards: Non-static method JHTML::script() should not be called statically in /customers/4/9/a/stevnsvig.com/httpd.www/electronics/libraries/joomla/html/html/behavior.php on line 63 Strict Standards: Non-static method JHTML::_() should not be called statically in /customers/4/9/a/stevnsvig.com/httpd.www/electronics/libraries/joomla/html/html.php on line 172 Strict Standards: call_user_func_array() expects parameter 1 to be a valid callback, non-static method JHTMLBehavior::mootools() should not be called statically in /customers/4/9/a/stevnsvig.com/httpd.www/electronics/libraries/joomla/html/html.php on line 91 Strict Standards: Non-static method JFactory::getConfig() should not be called statically in /customers/4/9/a/stevnsvig.com/httpd.www/electronics/libraries/joomla/html/html/behavior.php on line 46 Strict Standards: Non-static method JHTML::script() should not be called statically in /customers/4/9/a/stevnsvig.com/httpd.www/electronics/libraries/joomla/html/html/behavior.php on line 56 Strict Standards: Non-static method JURI::root() should not be called statically in /customers/4/9/a/stevnsvig.com/httpd.www/electronics/libraries/joomla/html/html.php on line 176 Strict Standards: Non-static method JURI::base() should not be called statically in /customers/4/9/a/stevnsvig.com/httpd.www/electronics/libraries/joomla/environment/uri.php on line 255 Strict Standards: Non-static method JURI::getInstance() should not be called statically in /customers/4/9/a/stevnsvig.com/httpd.www/electronics/libraries/joomla/environment/uri.php on line 255 Strict Standards: Non-static method JFactory::getDocument() should not be called statically in /customers/4/9/a/stevnsvig.com/httpd.www/electronics/libraries/joomla/html/html.php on line 179 Strict Standards: Non-static method JURI::root() should not be called statically in /customers/4/9/a/stevnsvig.com/httpd.www/electronics/libraries/joomla/html/html.php on line 176 Strict Standards: Non-static method JFactory::getDocument() should not be called statically in /customers/4/9/a/stevnsvig.com/httpd.www/electronics/libraries/joomla/html/html.php on line 179 Strict Standards: Non-static method JLoader::import() should not be called statically in /customers/4/9/a/stevnsvig.com/httpd.www/electronics/libraries/loader.php on line 186 Strict Standards: Non-static method JLoader::load() should not be called statically in /customers/4/9/a/stevnsvig.com/httpd.www/electronics/libraries/loader.php on line 161 Strict Standards: Non-static method JLoader::register() should not be called statically in /customers/4/9/a/stevnsvig.com/httpd.www/electronics/libraries/loader.php on line 138 Strict Standards: Non-static method JLoader::import() should not be called statically in /customers/4/9/a/stevnsvig.com/httpd.www/electronics/libraries/loader.php on line 186 Strict Standards: Non-static method JLoader::import() should not be called statically in /customers/4/9/a/stevnsvig.com/httpd.www/electronics/libraries/loader.php on line 186 Strict Standards: Non-static method JLoader::register() should not be called statically in /customers/4/9/a/stevnsvig.com/httpd.www/electronics/libraries/loader.php on line 71 Strict Standards: Non-static method JLoader::load() should not be called statically in /customers/4/9/a/stevnsvig.com/httpd.www/electronics/libraries/loader.php on line 161 Strict Standards: Non-static method JLoader::register() should not be called statically in /customers/4/9/a/stevnsvig.com/httpd.www/electronics/libraries/loader.php on line 138 Strict Standards: Non-static method JLoader::import() should not be called statically in /customers/4/9/a/stevnsvig.com/httpd.www/electronics/libraries/loader.php on line 186 Strict Standards: Non-static method JLoader::load() should not be called statically in /customers/4/9/a/stevnsvig.com/httpd.www/electronics/libraries/loader.php on line 161 Strict Standards: Non-static method JLoader::register() should not be called statically in /customers/4/9/a/stevnsvig.com/httpd.www/electronics/libraries/loader.php on line 138 Strict Standards: Non-static method JLoader::import() should not be called statically in /customers/4/9/a/stevnsvig.com/httpd.www/electronics/libraries/loader.php on line 186 Strict Standards: Non-static method JLoader::import() should not be called statically in /customers/4/9/a/stevnsvig.com/httpd.www/electronics/libraries/loader.php on line 186 Strict Standards: Non-static method JLoader::import() should not be called statically in /customers/4/9/a/stevnsvig.com/httpd.www/electronics/libraries/loader.php on line 186 Strict Standards: Non-static method JLoader::import() should not be called statically in /customers/4/9/a/stevnsvig.com/httpd.www/electronics/libraries/loader.php on line 186 Strict Standards: Non-static method JLoader::import() should not be called statically in /customers/4/9/a/stevnsvig.com/httpd.www/electronics/libraries/loader.php on line 186 Strict Standards: Non-static method JLoader::load() should not be called statically in /customers/4/9/a/stevnsvig.com/httpd.www/electronics/libraries/loader.php on line 161 Strict Standards: Non-static method JLoader::register() should not be called statically in /customers/4/9/a/stevnsvig.com/httpd.www/electronics/libraries/loader.php on line 138 Strict Standards: Declaration of JCacheView::get() should be compatible with JCache::get($id, $group = NULL) in /customers/4/9/a/stevnsvig.com/httpd.www/electronics/libraries/joomla/cache/handler/view.php on line 150 Strict Standards: Non-static method JLoader::import() should not be called statically in /customers/4/9/a/stevnsvig.com/httpd.www/electronics/libraries/loader.php on line 186 Strict Standards: Non-static method JLoader::import() should not be called statically in /customers/4/9/a/stevnsvig.com/httpd.www/electronics/libraries/loader.php on line 186 Strict Standards: Non-static method JLoader::import() should not be called statically in /customers/4/9/a/stevnsvig.com/httpd.www/electronics/libraries/loader.php on line 186 Strict Standards: Non-static method JLoader::import() should not be called statically in /customers/4/9/a/stevnsvig.com/httpd.www/electronics/libraries/loader.php on line 186 Strict Standards: Non-static method JLoader::register() should not be called statically in /customers/4/9/a/stevnsvig.com/httpd.www/electronics/libraries/loader.php on line 71 Strict Standards: Non-static method JLoader::load() should not be called statically in /customers/4/9/a/stevnsvig.com/httpd.www/electronics/libraries/loader.php on line 161 Strict Standards: Non-static method JLoader::register() should not be called statically in /customers/4/9/a/stevnsvig.com/httpd.www/electronics/libraries/loader.php on line 138 Strict Standards: Non-static method JLoader::import() should not be called statically in /customers/4/9/a/stevnsvig.com/httpd.www/electronics/libraries/loader.php on line 186 Strict Standards: Non-static method JLoader::register() should not be called statically in /customers/4/9/a/stevnsvig.com/httpd.www/electronics/libraries/loader.php on line 71 Strict Standards: Non-static method JLoader::load() should not be called statically in /customers/4/9/a/stevnsvig.com/httpd.www/electronics/libraries/loader.php on line 161 Strict Standards: Non-static method JLoader::register() should not be called statically in /customers/4/9/a/stevnsvig.com/httpd.www/electronics/libraries/loader.php on line 138 Strict Standards: Non-static method JLoader::import() should not be called statically in /customers/4/9/a/stevnsvig.com/httpd.www/electronics/libraries/loader.php on line 186 Strict Standards: Non-static method JLoader::import() should not be called statically in /customers/4/9/a/stevnsvig.com/httpd.www/electronics/libraries/loader.php on line 186 Strict Standards: Non-static method JLoader::import() should not be called statically in /customers/4/9/a/stevnsvig.com/httpd.www/electronics/libraries/loader.php on line 186 Strict Standards: Non-static method JLoader::import() should not be called statically in /customers/4/9/a/stevnsvig.com/httpd.www/electronics/libraries/loader.php on line 186 Strict Standards: Non-static method JLoader::import() should not be called statically in /customers/4/9/a/stevnsvig.com/httpd.www/electronics/libraries/loader.php on line 186 Strict Standards: Non-static method JLoader::load() should not be called statically in /customers/4/9/a/stevnsvig.com/httpd.www/electronics/libraries/loader.php on line 161 Strict Standards: Non-static method JLoader::register() should not be called statically in /customers/4/9/a/stevnsvig.com/httpd.www/electronics/libraries/loader.php on line 138 Strict Standards: Non-static method JLoader::import() should not be called statically in /customers/4/9/a/stevnsvig.com/httpd.www/electronics/libraries/loader.php on line 186 Strict Standards: Non-static method JLoader::import() should not be called statically in /customers/4/9/a/stevnsvig.com/httpd.www/electronics/libraries/loader.php on line 186 Strict Standards: Non-static method JLoader::load() should not be called statically in /customers/4/9/a/stevnsvig.com/httpd.www/electronics/libraries/loader.php on line 161 Strict Standards: Non-static method JLoader::register() should not be called statically in /customers/4/9/a/stevnsvig.com/httpd.www/electronics/libraries/loader.php on line 138 Strict Standards: Non-static method JLoader::import() should not be called statically in /customers/4/9/a/stevnsvig.com/httpd.www/electronics/libraries/loader.php on line 186 Strict Standards: Non-static method JLoader::import() should not be called statically in /customers/4/9/a/stevnsvig.com/httpd.www/electronics/libraries/loader.php on line 186 Strict Standards: Non-static method JLoader::import() should not be called statically in /customers/4/9/a/stevnsvig.com/httpd.www/electronics/libraries/loader.php on line 186 Strict Standards: Non-static method JLoader::import() should not be called statically in /customers/4/9/a/stevnsvig.com/httpd.www/electronics/libraries/loader.php on line 186 Strict Standards: Non-static method JLoader::register() should not be called statically in /customers/4/9/a/stevnsvig.com/httpd.www/electronics/libraries/loader.php on line 71 Strict Standards: Non-static method JLoader::load() should not be called statically in /customers/4/9/a/stevnsvig.com/httpd.www/electronics/libraries/loader.php on line 161 Strict Standards: Non-static method JLoader::register() should not be called statically in /customers/4/9/a/stevnsvig.com/httpd.www/electronics/libraries/loader.php on line 138 Strict Standards: Non-static method JLoader::import() should not be called statically in /customers/4/9/a/stevnsvig.com/httpd.www/electronics/libraries/loader.php on line 186

Jonases Hobbies

Strict Standards: Non-static method JLoader::import() should not be called statically in /customers/4/9/a/stevnsvig.com/httpd.www/electronics/libraries/loader.php on line 186 Strict Standards: Non-static method JLoader::import() should not be called statically in /customers/4/9/a/stevnsvig.com/httpd.www/electronics/libraries/loader.php on line 186 Strict Standards: Non-static method JLoader::load() should not be called statically in /customers/4/9/a/stevnsvig.com/httpd.www/electronics/libraries/loader.php on line 161 Strict Standards: Non-static method JLoader::register() should not be called statically in /customers/4/9/a/stevnsvig.com/httpd.www/electronics/libraries/loader.php on line 138 Strict Standards: Non-static method JLoader::import() should not be called statically in /customers/4/9/a/stevnsvig.com/httpd.www/electronics/libraries/loader.php on line 186 Strict Standards: Non-static method JLoader::load() should not be called statically in /customers/4/9/a/stevnsvig.com/httpd.www/electronics/libraries/loader.php on line 161 Strict Standards: Non-static method JLoader::register() should not be called statically in /customers/4/9/a/stevnsvig.com/httpd.www/electronics/libraries/loader.php on line 138 Strict Standards: Non-static method JLoader::import() should not be called statically in /customers/4/9/a/stevnsvig.com/httpd.www/electronics/libraries/loader.php on line 186 Strict Standards: Non-static method JLoader::load() should not be called statically in /customers/4/9/a/stevnsvig.com/httpd.www/electronics/libraries/loader.php on line 161 Strict Standards: Non-static method JLoader::register() should not be called statically in /customers/4/9/a/stevnsvig.com/httpd.www/electronics/libraries/loader.php on line 138 Strict Standards: Non-static method JLoader::import() should not be called statically in /customers/4/9/a/stevnsvig.com/httpd.www/electronics/libraries/loader.php on line 186 Strict Standards: Non-static method JLoader::load() should not be called statically in /customers/4/9/a/stevnsvig.com/httpd.www/electronics/libraries/loader.php on line 161 Strict Standards: Non-static method JLoader::register() should not be called statically in /customers/4/9/a/stevnsvig.com/httpd.www/electronics/libraries/loader.php on line 138 Strict Standards: Non-static method JLoader::import() should not be called statically in /customers/4/9/a/stevnsvig.com/httpd.www/electronics/libraries/loader.php on line 186 Strict Standards: Non-static method JLoader::load() should not be called statically in /customers/4/9/a/stevnsvig.com/httpd.www/electronics/libraries/loader.php on line 161 Strict Standards: Non-static method JLoader::register() should not be called statically in /customers/4/9/a/stevnsvig.com/httpd.www/electronics/libraries/loader.php on line 138 Strict Standards: Non-static method JLoader::load() should not be called statically in /customers/4/9/a/stevnsvig.com/httpd.www/electronics/libraries/loader.php on line 161 Strict Standards: Non-static method JLoader::register() should not be called statically in /customers/4/9/a/stevnsvig.com/httpd.www/electronics/libraries/loader.php on line 138 Strict Standards: Non-static method JString::strpos() should not be called statically in /customers/4/9/a/stevnsvig.com/httpd.www/electronics/plugins/content/emailcloak.php on line 67 Strict Standards: Non-static method JString::strpos() should not be called statically in /customers/4/9/a/stevnsvig.com/httpd.www/electronics/plugins/content/emailcloak.php on line 73 Strict Standards: Non-static method JFactory::getDBO() should not be called statically in /customers/4/9/a/stevnsvig.com/httpd.www/electronics/plugins/content/loadmodule.php on line 24 Strict Standards: Non-static method JString::strpos() should not be called statically in /customers/4/9/a/stevnsvig.com/httpd.www/electronics/plugins/content/loadmodule.php on line 26 Strict Standards: Non-static method JPluginHelper::getPlugin() should not be called statically in /customers/4/9/a/stevnsvig.com/httpd.www/electronics/plugins/content/pagebreak.php on line 39 Strict Standards: Non-static method JPluginHelper::_load() should not be called statically in /customers/4/9/a/stevnsvig.com/httpd.www/electronics/libraries/joomla/plugin/helper.php on line 41 Strict Standards: Non-static method JRequest::getBool() should not be called statically in /customers/4/9/a/stevnsvig.com/httpd.www/electronics/plugins/content/pagebreak.php on line 42 Strict Standards: Non-static method JRequest::getVar() should not be called statically in /customers/4/9/a/stevnsvig.com/httpd.www/electronics/libraries/joomla/environment/request.php on line 217 Strict Standards: Non-static method JRequest::_cleanVar() should not be called statically in /customers/4/9/a/stevnsvig.com/httpd.www/electronics/libraries/joomla/environment/request.php on line 151 Strict Standards: Non-static method JFilterInput::getInstance() should not be called statically in /customers/4/9/a/stevnsvig.com/httpd.www/electronics/libraries/joomla/environment/request.php on line 577 Strict Standards: Non-static method JRequest::getBool() should not be called statically in /customers/4/9/a/stevnsvig.com/httpd.www/electronics/plugins/content/pagebreak.php on line 43 Strict Standards: Non-static method JRequest::getVar() should not be called statically in /customers/4/9/a/stevnsvig.com/httpd.www/electronics/libraries/joomla/environment/request.php on line 217 Strict Standards: Non-static method JRequest::_cleanVar() should not be called statically in /customers/4/9/a/stevnsvig.com/httpd.www/electronics/libraries/joomla/environment/request.php on line 151 Strict Standards: Non-static method JFilterInput::getInstance() should not be called statically in /customers/4/9/a/stevnsvig.com/httpd.www/electronics/libraries/joomla/environment/request.php on line 577 Strict Standards: Non-static method JPlugin::loadLanguage() should not be called statically in /customers/4/9/a/stevnsvig.com/httpd.www/electronics/plugins/content/pagebreak.php on line 45 Strict Standards: Non-static method JFactory::getLanguage() should not be called statically in /customers/4/9/a/stevnsvig.com/httpd.www/electronics/libraries/joomla/plugin/plugin.php on line 113 Strict Standards: Non-static method JRequest::getCmd() should not be called statically in /customers/4/9/a/stevnsvig.com/httpd.www/electronics/plugins/content/pagenavigation.php on line 21 Strict Standards: Non-static method JRequest::getVar() should not be called statically in /customers/4/9/a/stevnsvig.com/httpd.www/electronics/libraries/joomla/environment/request.php on line 255 Strict Standards: Non-static method JRequest::_cleanVar() should not be called statically in /customers/4/9/a/stevnsvig.com/httpd.www/electronics/libraries/joomla/environment/request.php on line 134 Strict Standards: Non-static method JFilterInput::getInstance() should not be called statically in /customers/4/9/a/stevnsvig.com/httpd.www/electronics/libraries/joomla/environment/request.php on line 577 Strict Standards: Non-static method JPluginHelper::getPlugin() should not be called statically in /customers/4/9/a/stevnsvig.com/httpd.www/electronics/plugins/content/pagenavigation.php on line 24 Strict Standards: Non-static method JPluginHelper::_load() should not be called statically in /customers/4/9/a/stevnsvig.com/httpd.www/electronics/libraries/joomla/plugin/helper.php on line 41 Strict Standards: Non-static method JFactory::getURI() should not be called statically in /customers/4/9/a/stevnsvig.com/httpd.www/electronics/plugins/content/vote.php on line 21 Strict Standards: Non-static method JLoader::import() should not be called statically in /customers/4/9/a/stevnsvig.com/httpd.www/electronics/libraries/loader.php on line 186 Strict Standards: Non-static method JURI::getInstance() should not be called statically in /customers/4/9/a/stevnsvig.com/httpd.www/electronics/libraries/joomla/factory.php on line 403 Strict Standards: Non-static method JLoader::import() should not be called statically in /customers/4/9/a/stevnsvig.com/httpd.www/electronics/libraries/loader.php on line 186
| | | | |
| --- | --- | --- | --- |
| Driving Motors | Strict Standards: Non-static method JLoader::load() should not be called statically in /customers/4/9/a/stevnsvig.com/httpd.www/electronics/libraries/loader.php on line 161 Strict Standards: Non-static method JLoader::register() should not be called statically in /customers/4/9/a/stevnsvig.com/httpd.www/electronics/libraries/loader.php on line 138 Strict Standards: Non-static method JLoader::import() should not be called statically in /customers/4/9/a/stevnsvig.com/httpd.www/electronics/libraries/loader.php on line 186 Strict Standards: call_user_func_array() expects parameter 1 to be a valid callback, non-static method JHTMLIcon::pdf() should not be called statically in /customers/4/9/a/stevnsvig.com/httpd.www/electronics/libraries/joomla/html/html.php on line 91 Strict Standards: Non-static method JText::_() should not be called statically in /customers/4/9/a/stevnsvig.com/httpd.www/electronics/components/com_content/helpers/icon.php on line 55 Strict Standards: Non-static method JFactory::getLanguage() should not be called statically in /customers/4/9/a/stevnsvig.com/httpd.www/electronics/libraries/joomla/methods.php on line 120 Strict Standards: Non-static method JHTML::_() should not be called statically in /customers/4/9/a/stevnsvig.com/httpd.www/electronics/components/com_content/helpers/icon.php on line 55 Strict Standards: Non-static method JLoader::load() should not be called statically in /customers/4/9/a/stevnsvig.com/httpd.www/electronics/libraries/loader.php on line 161 Strict Standards: Non-static method JLoader::register() should not be called statically in /customers/4/9/a/stevnsvig.com/httpd.www/electronics/libraries/loader.php on line 138 Strict Standards: Non-static method JLoader::import() should not be called statically in /customers/4/9/a/stevnsvig.com/httpd.www/electronics/libraries/loader.php on line 186 Strict Standards: Non-static method JHTML::addIncludePath() should not be called statically in /customers/4/9/a/stevnsvig.com/httpd.www/electronics/libraries/joomla/html/html.php on line 66 Strict Standards: Non-static method JPath::find() should not be called statically in /customers/4/9/a/stevnsvig.com/httpd.www/electronics/libraries/joomla/html/html.php on line 66 Strict Standards: call_user_func_array() expects parameter 1 to be a valid callback, non-static method JHTMLImage::site() should not be called statically in /customers/4/9/a/stevnsvig.com/httpd.www/electronics/libraries/joomla/html/html.php on line 91 Strict Standards: Non-static method JURI::base() should not be called statically in /customers/4/9/a/stevnsvig.com/httpd.www/electronics/libraries/joomla/html/html/image.php on line 85 Strict Standards: Non-static method JText::_() should not be called statically in /customers/4/9/a/stevnsvig.com/httpd.www/electronics/components/com_content/helpers/icon.php on line 60 Strict Standards: Non-static method JFactory::getLanguage() should not be called statically in /customers/4/9/a/stevnsvig.com/httpd.www/electronics/libraries/joomla/methods.php on line 120 Strict Standards: Non-static method JRoute::_() should not be called statically in /customers/4/9/a/stevnsvig.com/httpd.www/electronics/components/com_content/helpers/icon.php on line 64 Strict Standards: Non-static method JFactory::getApplication() should not be called statically in /customers/4/9/a/stevnsvig.com/httpd.www/electronics/libraries/joomla/methods.php on line 41 Strict Standards: Non-static method JLoader::import() should not be called statically in /customers/4/9/a/stevnsvig.com/httpd.www/electronics/libraries/loader.php on line 186 Strict Standards: Non-static method JLoader::import() should not be called statically in /customers/4/9/a/stevnsvig.com/httpd.www/electronics/libraries/loader.php on line 186 Strict Standards: Non-static method JHTML::_() should not be called statically in /customers/4/9/a/stevnsvig.com/httpd.www/electronics/components/com_content/helpers/icon.php on line 64 Strict Standards: call_user_func_array() expects parameter 1 to be a valid callback, non-static method JHTML::link() should not be called statically in /customers/4/9/a/stevnsvig.com/httpd.www/electronics/libraries/joomla/html/html.php on line 91 Strict Standards: Non-static method JArrayHelper::toString() should not be called statically in /customers/4/9/a/stevnsvig.com/httpd.www/electronics/libraries/joomla/html/html.php on line 112 | Strict Standards: call_user_func_array() expects parameter 1 to be a valid callback, non-static method JHTMLIcon::print_popup() should not be called statically in /customers/4/9/a/stevnsvig.com/httpd.www/electronics/libraries/joomla/html/html.php on line 91 Strict Standards: Non-static method JText::_() should not be called statically in /customers/4/9/a/stevnsvig.com/httpd.www/electronics/components/com_content/helpers/icon.php on line 145 Strict Standards: Non-static method JFactory::getLanguage() should not be called statically in /customers/4/9/a/stevnsvig.com/httpd.www/electronics/libraries/joomla/methods.php on line 120 Strict Standards: Non-static method JHTML::_() should not be called statically in /customers/4/9/a/stevnsvig.com/httpd.www/electronics/components/com_content/helpers/icon.php on line 145 Strict Standards: call_user_func_array() expects parameter 1 to be a valid callback, non-static method JHTMLImage::site() should not be called statically in /customers/4/9/a/stevnsvig.com/httpd.www/electronics/libraries/joomla/html/html.php on line 91 Strict Standards: Non-static method JURI::base() should not be called statically in /customers/4/9/a/stevnsvig.com/httpd.www/electronics/libraries/joomla/html/html/image.php on line 85 Strict Standards: Non-static method JText::_() should not be called statically in /customers/4/9/a/stevnsvig.com/httpd.www/electronics/components/com_content/helpers/icon.php on line 150 Strict Standards: Non-static method JFactory::getLanguage() should not be called statically in /customers/4/9/a/stevnsvig.com/httpd.www/electronics/libraries/joomla/methods.php on line 120 Strict Standards: Non-static method JRoute::_() should not be called statically in /customers/4/9/a/stevnsvig.com/httpd.www/electronics/components/com_content/helpers/icon.php on line 154 Strict Standards: Non-static method JFactory::getApplication() should not be called statically in /customers/4/9/a/stevnsvig.com/httpd.www/electronics/libraries/joomla/methods.php on line 41 Strict Standards: Non-static method JLoader::import() should not be called statically in /customers/4/9/a/stevnsvig.com/httpd.www/electronics/libraries/loader.php on line 186 Strict Standards: Non-static method JLoader::import() should not be called statically in /customers/4/9/a/stevnsvig.com/httpd.www/electronics/libraries/loader.php on line 186 Strict Standards: Non-static method JHTML::_() should not be called statically in /customers/4/9/a/stevnsvig.com/httpd.www/electronics/components/com_content/helpers/icon.php on line 154 Strict Standards: call_user_func_array() expects parameter 1 to be a valid callback, non-static method JHTML::link() should not be called statically in /customers/4/9/a/stevnsvig.com/httpd.www/electronics/libraries/joomla/html/html.php on line 91 Strict Standards: Non-static method JArrayHelper::toString() should not be called statically in /customers/4/9/a/stevnsvig.com/httpd.www/electronics/libraries/joomla/html/html.php on line 112 | Strict Standards: call_user_func_array() expects parameter 1 to be a valid callback, non-static method JHTMLIcon::email() should not be called statically in /customers/4/9/a/stevnsvig.com/httpd.www/electronics/libraries/joomla/html/html.php on line 91 Strict Standards: Non-static method JURI::getInstance() should not be called statically in /customers/4/9/a/stevnsvig.com/httpd.www/electronics/components/com_content/helpers/icon.php on line 69 Strict Standards: Non-static method ContentHelperRoute::getArticleRoute() should not be called statically in /customers/4/9/a/stevnsvig.com/httpd.www/electronics/components/com_content/helpers/icon.php on line 71 Strict Standards: Non-static method ContentHelperRoute::_findItem() should not be called statically in /customers/4/9/a/stevnsvig.com/httpd.www/electronics/components/com_content/helpers/route.php on line 49 Strict Standards: Non-static method JComponentHelper::getComponent() should not be called statically in /customers/4/9/a/stevnsvig.com/httpd.www/electronics/components/com_content/helpers/route.php on line 97 Strict Standards: Non-static method JComponentHelper::_load() should not be called statically in /customers/4/9/a/stevnsvig.com/httpd.www/electronics/libraries/joomla/application/component/helper.php on line 39 Strict Standards: Non-static method JApplication::getMenu() should not be called statically in /customers/4/9/a/stevnsvig.com/httpd.www/electronics/components/com_content/helpers/route.php on line 99 Strict Standards: Non-static method JLoader::import() should not be called statically in /customers/4/9/a/stevnsvig.com/httpd.www/electronics/libraries/loader.php on line 186 Strict Standards: Non-static method JMenu::getInstance() should not be called statically in /customers/4/9/a/stevnsvig.com/httpd.www/electronics/libraries/joomla/application/application.php on line 705 Strict Standards: Non-static method JError::isError() should not be called statically in /customers/4/9/a/stevnsvig.com/httpd.www/electronics/libraries/joomla/application/application.php on line 706 Strict Standards: Non-static method JRoute::_() should not be called statically in /customers/4/9/a/stevnsvig.com/httpd.www/electronics/components/com_content/helpers/icon.php on line 71 Strict Standards: Non-static method JFactory::getApplication() should not be called statically in /customers/4/9/a/stevnsvig.com/httpd.www/electronics/libraries/joomla/methods.php on line 41 Strict Standards: Non-static method JLoader::import() should not be called statically in /customers/4/9/a/stevnsvig.com/httpd.www/electronics/libraries/loader.php on line 186 Strict Standards: Non-static method JLoader::import() should not be called statically in /customers/4/9/a/stevnsvig.com/httpd.www/electronics/libraries/loader.php on line 186 Strict Standards: Non-static method JText::_() should not be called statically in /customers/4/9/a/stevnsvig.com/httpd.www/electronics/components/com_content/helpers/icon.php on line 77 Strict Standards: Non-static method JFactory::getLanguage() should not be called statically in /customers/4/9/a/stevnsvig.com/httpd.www/electronics/libraries/joomla/methods.php on line 120 Strict Standards: Non-static method JHTML::_() should not be called statically in /customers/4/9/a/stevnsvig.com/httpd.www/electronics/components/com_content/helpers/icon.php on line 77 Strict Standards: call_user_func_array() expects parameter 1 to be a valid callback, non-static method JHTMLImage::site() should not be called statically in /customers/4/9/a/stevnsvig.com/httpd.www/electronics/libraries/joomla/html/html.php on line 91 Strict Standards: Non-static method JURI::base() should not be called statically in /customers/4/9/a/stevnsvig.com/httpd.www/electronics/libraries/joomla/html/html/image.php on line 85 Strict Standards: Non-static method JText::_() should not be called statically in /customers/4/9/a/stevnsvig.com/httpd.www/electronics/components/com_content/helpers/icon.php on line 82 Strict Standards: Non-static method JFactory::getLanguage() should not be called statically in /customers/4/9/a/stevnsvig.com/httpd.www/electronics/libraries/joomla/methods.php on line 120 Strict Standards: Non-static method JRoute::_() should not be called statically in /customers/4/9/a/stevnsvig.com/httpd.www/electronics/components/com_content/helpers/icon.php on line 85 Strict Standards: Non-static method JFactory::getApplication() should not be called statically in /customers/4/9/a/stevnsvig.com/httpd.www/electronics/libraries/joomla/methods.php on line 41 Strict Standards: Non-static method JLoader::import() should not be called statically in /customers/4/9/a/stevnsvig.com/httpd.www/electronics/libraries/loader.php on line 186 Strict Standards: Non-static method JLoader::import() should not be called statically in /customers/4/9/a/stevnsvig.com/httpd.www/electronics/libraries/loader.php on line 186 Strict Standards: Non-static method JHTML::_() should not be called statically in /customers/4/9/a/stevnsvig.com/httpd.www/electronics/components/com_content/helpers/icon.php on line 85 Strict Standards: call_user_func_array() expects parameter 1 to be a valid callback, non-static method JHTML::link() should not be called statically in /customers/4/9/a/stevnsvig.com/httpd.www/electronics/libraries/joomla/html/html.php on line 91 Strict Standards: Non-static method JArrayHelper::toString() should not be called statically in /customers/4/9/a/stevnsvig.com/httpd.www/electronics/libraries/joomla/html/html.php on line 112 |
Written by Jonas Stevnsvig
Strict Standards: call_user_func_array() expects parameter 1 to be a valid callback, non-static method JHTML::date() should not be called statically in /customers/4/9/a/stevnsvig.com/httpd.www/electronics/libraries/joomla/html/html.php on line 91 Strict Standards: Non-static method JFactory::getConfig() should not be called statically in /customers/4/9/a/stevnsvig.com/httpd.www/electronics/libraries/joomla/html/html.php on line 222 Strict Standards: Non-static method JFactory::getDate() should not be called statically in /customers/4/9/a/stevnsvig.com/httpd.www/electronics/libraries/joomla/html/html.php on line 225 Strict Standards: Non-static method JLoader::import() should not be called statically in /customers/4/9/a/stevnsvig.com/httpd.www/electronics/libraries/loader.php on line 186 Strict Standards: Non-static method JFactory::getLanguage() should not be called statically in /customers/4/9/a/stevnsvig.com/httpd.www/electronics/libraries/joomla/factory.php on line 427 Monday, 02 August 2010 22:03
This is mostly a note to myself about the wiring for the L298 Dual H-bridge controller I bought for the tank robot project.

I discovered Seed studio through hackaday.com, while reading about the bus pirate. As far as I could find, the L298 seemed like a great way to drive motors using a logic circuit, without putting the electronic components at risk. Having only the electronics experience gained in highschool (which was a few years back), it took a little while for me to figure out how to actually use it, in conjunction with the Arduino. My breakthrough came after reading a tutorial on pyroelectric.com, where their schematic was clearly marked with the logic and motor power supply sharing the same ground.


The point I was in doubt about was the power. I had expected separate grounds for the logic and VMS power, but that was where I was wrong.


I ended up with this wiring to power a single motor: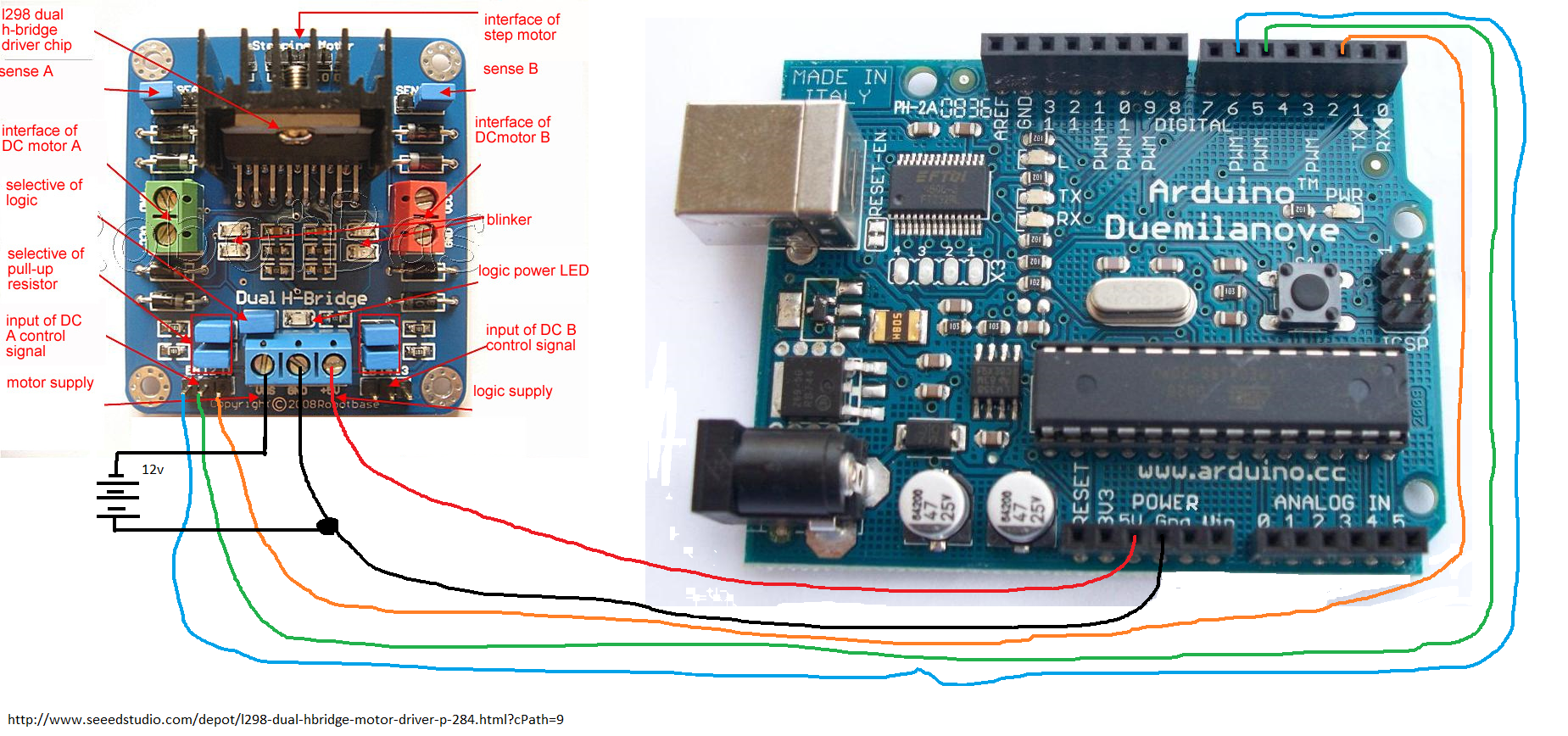 The pinout is as follows:
EA: enable output
I1: input for primary direction
I2: input for secondary direction

VMS: motor power +
5+: logic power
GND: ground for VMS & logic

I am a bit confused about my PWM findings. According to my experiments, the H-bridge accepts HIGH (255) for OFF, but pwm 255-460 represents "fastest-slowest" speed. now I have to figure out why that is.
Strict Standards: call_user_func_array() expects parameter 1 to be a valid callback, non-static method JHTML::date() should not be called statically in /customers/4/9/a/stevnsvig.com/httpd.www/electronics/libraries/joomla/html/html.php on line 91 Strict Standards: Non-static method JFactory::getConfig() should not be called statically in /customers/4/9/a/stevnsvig.com/httpd.www/electronics/libraries/joomla/html/html.php on line 222 Strict Standards: Non-static method JFactory::getDate() should not be called statically in /customers/4/9/a/stevnsvig.com/httpd.www/electronics/libraries/joomla/html/html.php on line 225 Strict Standards: Non-static method JLoader::import() should not be called statically in /customers/4/9/a/stevnsvig.com/httpd.www/electronics/libraries/loader.php on line 186 Strict Standards: Non-static method JFactory::getLanguage() should not be called statically in /customers/4/9/a/stevnsvig.com/httpd.www/electronics/libraries/joomla/factory.php on line 427 Last Updated on Friday, 27 August 2010 19:01
Strict Standards: Non-static method JLoader::import() should not be called statically in /customers/4/9/a/stevnsvig.com/httpd.www/electronics/libraries/loader.php on line 186 Strict Standards: Non-static method JString::strpos() should not be called statically in /customers/4/9/a/stevnsvig.com/httpd.www/electronics/plugins/content/emailcloak.php on line 67 Strict Standards: Non-static method JString::strpos() should not be called statically in /customers/4/9/a/stevnsvig.com/httpd.www/electronics/plugins/content/emailcloak.php on line 73 Strict Standards: Non-static method JFactory::getDBO() should not be called statically in /customers/4/9/a/stevnsvig.com/httpd.www/electronics/plugins/content/loadmodule.php on line 24 Strict Standards: Non-static method JString::strpos() should not be called statically in /customers/4/9/a/stevnsvig.com/httpd.www/electronics/plugins/content/loadmodule.php on line 26 Strict Standards: Non-static method JPluginHelper::getPlugin() should not be called statically in /customers/4/9/a/stevnsvig.com/httpd.www/electronics/plugins/content/pagebreak.php on line 39 Strict Standards: Non-static method JPluginHelper::_load() should not be called statically in /customers/4/9/a/stevnsvig.com/httpd.www/electronics/libraries/joomla/plugin/helper.php on line 41 Strict Standards: Non-static method JRequest::getBool() should not be called statically in /customers/4/9/a/stevnsvig.com/httpd.www/electronics/plugins/content/pagebreak.php on line 42 Strict Standards: Non-static method JRequest::getVar() should not be called statically in /customers/4/9/a/stevnsvig.com/httpd.www/electronics/libraries/joomla/environment/request.php on line 217 Strict Standards: Non-static method JRequest::_cleanVar() should not be called statically in /customers/4/9/a/stevnsvig.com/httpd.www/electronics/libraries/joomla/environment/request.php on line 151 Strict Standards: Non-static method JFilterInput::getInstance() should not be called statically in /customers/4/9/a/stevnsvig.com/httpd.www/electronics/libraries/joomla/environment/request.php on line 577 Strict Standards: Non-static method JRequest::getBool() should not be called statically in /customers/4/9/a/stevnsvig.com/httpd.www/electronics/plugins/content/pagebreak.php on line 43 Strict Standards: Non-static method JRequest::getVar() should not be called statically in /customers/4/9/a/stevnsvig.com/httpd.www/electronics/libraries/joomla/environment/request.php on line 217 Strict Standards: Non-static method JRequest::_cleanVar() should not be called statically in /customers/4/9/a/stevnsvig.com/httpd.www/electronics/libraries/joomla/environment/request.php on line 151 Strict Standards: Non-static method JFilterInput::getInstance() should not be called statically in /customers/4/9/a/stevnsvig.com/httpd.www/electronics/libraries/joomla/environment/request.php on line 577 Strict Standards: Non-static method JPlugin::loadLanguage() should not be called statically in /customers/4/9/a/stevnsvig.com/httpd.www/electronics/plugins/content/pagebreak.php on line 45 Strict Standards: Non-static method JFactory::getLanguage() should not be called statically in /customers/4/9/a/stevnsvig.com/httpd.www/electronics/libraries/joomla/plugin/plugin.php on line 113 Strict Standards: Non-static method JRequest::getCmd() should not be called statically in /customers/4/9/a/stevnsvig.com/httpd.www/electronics/plugins/content/pagenavigation.php on line 21 Strict Standards: Non-static method JRequest::getVar() should not be called statically in /customers/4/9/a/stevnsvig.com/httpd.www/electronics/libraries/joomla/environment/request.php on line 255 Strict Standards: Non-static method JRequest::_cleanVar() should not be called statically in /customers/4/9/a/stevnsvig.com/httpd.www/electronics/libraries/joomla/environment/request.php on line 134 Strict Standards: Non-static method JFilterInput::getInstance() should not be called statically in /customers/4/9/a/stevnsvig.com/httpd.www/electronics/libraries/joomla/environment/request.php on line 577 Strict Standards: Non-static method JPluginHelper::getPlugin() should not be called statically in /customers/4/9/a/stevnsvig.com/httpd.www/electronics/plugins/content/pagenavigation.php on line 24 Strict Standards: Non-static method JPluginHelper::_load() should not be called statically in /customers/4/9/a/stevnsvig.com/httpd.www/electronics/libraries/joomla/plugin/helper.php on line 41 Strict Standards: Non-static method JFactory::getURI() should not be called statically in /customers/4/9/a/stevnsvig.com/httpd.www/electronics/plugins/content/vote.php on line 21 Strict Standards: Non-static method JLoader::import() should not be called statically in /customers/4/9/a/stevnsvig.com/httpd.www/electronics/libraries/loader.php on line 186 Strict Standards: Non-static method JURI::getInstance() should not be called statically in /customers/4/9/a/stevnsvig.com/httpd.www/electronics/libraries/joomla/factory.php on line 403 Strict Standards: Non-static method JLoader::import() should not be called statically in /customers/4/9/a/stevnsvig.com/httpd.www/electronics/libraries/loader.php on line 186

| | | | |
| --- | --- | --- | --- |
| Welcome | Strict Standards: call_user_func_array() expects parameter 1 to be a valid callback, non-static method JHTMLIcon::pdf() should not be called statically in /customers/4/9/a/stevnsvig.com/httpd.www/electronics/libraries/joomla/html/html.php on line 91 Strict Standards: Non-static method JText::_() should not be called statically in /customers/4/9/a/stevnsvig.com/httpd.www/electronics/components/com_content/helpers/icon.php on line 55 Strict Standards: Non-static method JFactory::getLanguage() should not be called statically in /customers/4/9/a/stevnsvig.com/httpd.www/electronics/libraries/joomla/methods.php on line 120 Strict Standards: Non-static method JHTML::_() should not be called statically in /customers/4/9/a/stevnsvig.com/httpd.www/electronics/components/com_content/helpers/icon.php on line 55 Strict Standards: call_user_func_array() expects parameter 1 to be a valid callback, non-static method JHTMLImage::site() should not be called statically in /customers/4/9/a/stevnsvig.com/httpd.www/electronics/libraries/joomla/html/html.php on line 91 Strict Standards: Non-static method JURI::base() should not be called statically in /customers/4/9/a/stevnsvig.com/httpd.www/electronics/libraries/joomla/html/html/image.php on line 85 Strict Standards: Non-static method JText::_() should not be called statically in /customers/4/9/a/stevnsvig.com/httpd.www/electronics/components/com_content/helpers/icon.php on line 60 Strict Standards: Non-static method JFactory::getLanguage() should not be called statically in /customers/4/9/a/stevnsvig.com/httpd.www/electronics/libraries/joomla/methods.php on line 120 Strict Standards: Non-static method JRoute::_() should not be called statically in /customers/4/9/a/stevnsvig.com/httpd.www/electronics/components/com_content/helpers/icon.php on line 64 Strict Standards: Non-static method JFactory::getApplication() should not be called statically in /customers/4/9/a/stevnsvig.com/httpd.www/electronics/libraries/joomla/methods.php on line 41 Strict Standards: Non-static method JLoader::import() should not be called statically in /customers/4/9/a/stevnsvig.com/httpd.www/electronics/libraries/loader.php on line 186 Strict Standards: Non-static method JLoader::import() should not be called statically in /customers/4/9/a/stevnsvig.com/httpd.www/electronics/libraries/loader.php on line 186 Strict Standards: Non-static method JHTML::_() should not be called statically in /customers/4/9/a/stevnsvig.com/httpd.www/electronics/components/com_content/helpers/icon.php on line 64 Strict Standards: call_user_func_array() expects parameter 1 to be a valid callback, non-static method JHTML::link() should not be called statically in /customers/4/9/a/stevnsvig.com/httpd.www/electronics/libraries/joomla/html/html.php on line 91 Strict Standards: Non-static method JArrayHelper::toString() should not be called statically in /customers/4/9/a/stevnsvig.com/httpd.www/electronics/libraries/joomla/html/html.php on line 112 | Strict Standards: call_user_func_array() expects parameter 1 to be a valid callback, non-static method JHTMLIcon::print_popup() should not be called statically in /customers/4/9/a/stevnsvig.com/httpd.www/electronics/libraries/joomla/html/html.php on line 91 Strict Standards: Non-static method JText::_() should not be called statically in /customers/4/9/a/stevnsvig.com/httpd.www/electronics/components/com_content/helpers/icon.php on line 145 Strict Standards: Non-static method JFactory::getLanguage() should not be called statically in /customers/4/9/a/stevnsvig.com/httpd.www/electronics/libraries/joomla/methods.php on line 120 Strict Standards: Non-static method JHTML::_() should not be called statically in /customers/4/9/a/stevnsvig.com/httpd.www/electronics/components/com_content/helpers/icon.php on line 145 Strict Standards: call_user_func_array() expects parameter 1 to be a valid callback, non-static method JHTMLImage::site() should not be called statically in /customers/4/9/a/stevnsvig.com/httpd.www/electronics/libraries/joomla/html/html.php on line 91 Strict Standards: Non-static method JURI::base() should not be called statically in /customers/4/9/a/stevnsvig.com/httpd.www/electronics/libraries/joomla/html/html/image.php on line 85 Strict Standards: Non-static method JText::_() should not be called statically in /customers/4/9/a/stevnsvig.com/httpd.www/electronics/components/com_content/helpers/icon.php on line 150 Strict Standards: Non-static method JFactory::getLanguage() should not be called statically in /customers/4/9/a/stevnsvig.com/httpd.www/electronics/libraries/joomla/methods.php on line 120 Strict Standards: Non-static method JRoute::_() should not be called statically in /customers/4/9/a/stevnsvig.com/httpd.www/electronics/components/com_content/helpers/icon.php on line 154 Strict Standards: Non-static method JFactory::getApplication() should not be called statically in /customers/4/9/a/stevnsvig.com/httpd.www/electronics/libraries/joomla/methods.php on line 41 Strict Standards: Non-static method JLoader::import() should not be called statically in /customers/4/9/a/stevnsvig.com/httpd.www/electronics/libraries/loader.php on line 186 Strict Standards: Non-static method JLoader::import() should not be called statically in /customers/4/9/a/stevnsvig.com/httpd.www/electronics/libraries/loader.php on line 186 Strict Standards: Non-static method JHTML::_() should not be called statically in /customers/4/9/a/stevnsvig.com/httpd.www/electronics/components/com_content/helpers/icon.php on line 154 Strict Standards: call_user_func_array() expects parameter 1 to be a valid callback, non-static method JHTML::link() should not be called statically in /customers/4/9/a/stevnsvig.com/httpd.www/electronics/libraries/joomla/html/html.php on line 91 Strict Standards: Non-static method JArrayHelper::toString() should not be called statically in /customers/4/9/a/stevnsvig.com/httpd.www/electronics/libraries/joomla/html/html.php on line 112 | Strict Standards: call_user_func_array() expects parameter 1 to be a valid callback, non-static method JHTMLIcon::email() should not be called statically in /customers/4/9/a/stevnsvig.com/httpd.www/electronics/libraries/joomla/html/html.php on line 91 Strict Standards: Non-static method JURI::getInstance() should not be called statically in /customers/4/9/a/stevnsvig.com/httpd.www/electronics/components/com_content/helpers/icon.php on line 69 Strict Standards: Non-static method ContentHelperRoute::getArticleRoute() should not be called statically in /customers/4/9/a/stevnsvig.com/httpd.www/electronics/components/com_content/helpers/icon.php on line 71 Strict Standards: Non-static method ContentHelperRoute::_findItem() should not be called statically in /customers/4/9/a/stevnsvig.com/httpd.www/electronics/components/com_content/helpers/route.php on line 49 Strict Standards: Non-static method JComponentHelper::getComponent() should not be called statically in /customers/4/9/a/stevnsvig.com/httpd.www/electronics/components/com_content/helpers/route.php on line 97 Strict Standards: Non-static method JComponentHelper::_load() should not be called statically in /customers/4/9/a/stevnsvig.com/httpd.www/electronics/libraries/joomla/application/component/helper.php on line 39 Strict Standards: Non-static method JApplication::getMenu() should not be called statically in /customers/4/9/a/stevnsvig.com/httpd.www/electronics/components/com_content/helpers/route.php on line 99 Strict Standards: Non-static method JLoader::import() should not be called statically in /customers/4/9/a/stevnsvig.com/httpd.www/electronics/libraries/loader.php on line 186 Strict Standards: Non-static method JMenu::getInstance() should not be called statically in /customers/4/9/a/stevnsvig.com/httpd.www/electronics/libraries/joomla/application/application.php on line 705 Strict Standards: Non-static method JError::isError() should not be called statically in /customers/4/9/a/stevnsvig.com/httpd.www/electronics/libraries/joomla/application/application.php on line 706 Strict Standards: Non-static method JRoute::_() should not be called statically in /customers/4/9/a/stevnsvig.com/httpd.www/electronics/components/com_content/helpers/icon.php on line 71 Strict Standards: Non-static method JFactory::getApplication() should not be called statically in /customers/4/9/a/stevnsvig.com/httpd.www/electronics/libraries/joomla/methods.php on line 41 Strict Standards: Non-static method JLoader::import() should not be called statically in /customers/4/9/a/stevnsvig.com/httpd.www/electronics/libraries/loader.php on line 186 Strict Standards: Non-static method JLoader::import() should not be called statically in /customers/4/9/a/stevnsvig.com/httpd.www/electronics/libraries/loader.php on line 186 Strict Standards: Non-static method JText::_() should not be called statically in /customers/4/9/a/stevnsvig.com/httpd.www/electronics/components/com_content/helpers/icon.php on line 77 Strict Standards: Non-static method JFactory::getLanguage() should not be called statically in /customers/4/9/a/stevnsvig.com/httpd.www/electronics/libraries/joomla/methods.php on line 120 Strict Standards: Non-static method JHTML::_() should not be called statically in /customers/4/9/a/stevnsvig.com/httpd.www/electronics/components/com_content/helpers/icon.php on line 77 Strict Standards: call_user_func_array() expects parameter 1 to be a valid callback, non-static method JHTMLImage::site() should not be called statically in /customers/4/9/a/stevnsvig.com/httpd.www/electronics/libraries/joomla/html/html.php on line 91 Strict Standards: Non-static method JURI::base() should not be called statically in /customers/4/9/a/stevnsvig.com/httpd.www/electronics/libraries/joomla/html/html/image.php on line 85 Strict Standards: Non-static method JText::_() should not be called statically in /customers/4/9/a/stevnsvig.com/httpd.www/electronics/components/com_content/helpers/icon.php on line 82 Strict Standards: Non-static method JFactory::getLanguage() should not be called statically in /customers/4/9/a/stevnsvig.com/httpd.www/electronics/libraries/joomla/methods.php on line 120 Strict Standards: Non-static method JRoute::_() should not be called statically in /customers/4/9/a/stevnsvig.com/httpd.www/electronics/components/com_content/helpers/icon.php on line 85 Strict Standards: Non-static method JFactory::getApplication() should not be called statically in /customers/4/9/a/stevnsvig.com/httpd.www/electronics/libraries/joomla/methods.php on line 41 Strict Standards: Non-static method JLoader::import() should not be called statically in /customers/4/9/a/stevnsvig.com/httpd.www/electronics/libraries/loader.php on line 186 Strict Standards: Non-static method JLoader::import() should not be called statically in /customers/4/9/a/stevnsvig.com/httpd.www/electronics/libraries/loader.php on line 186 Strict Standards: Non-static method JHTML::_() should not be called statically in /customers/4/9/a/stevnsvig.com/httpd.www/electronics/components/com_content/helpers/icon.php on line 85 Strict Standards: call_user_func_array() expects parameter 1 to be a valid callback, non-static method JHTML::link() should not be called statically in /customers/4/9/a/stevnsvig.com/httpd.www/electronics/libraries/joomla/html/html.php on line 91 Strict Standards: Non-static method JArrayHelper::toString() should not be called statically in /customers/4/9/a/stevnsvig.com/httpd.www/electronics/libraries/joomla/html/html.php on line 112 |

Written by Jonas Stevnsvig

Strict Standards: call_user_func_array() expects parameter 1 to be a valid callback, non-static method JHTML::date() should not be called statically in /customers/4/9/a/stevnsvig.com/httpd.www/electronics/libraries/joomla/html/html.php on line 91 Strict Standards: Non-static method JFactory::getConfig() should not be called statically in /customers/4/9/a/stevnsvig.com/httpd.www/electronics/libraries/joomla/html/html.php on line 222 Strict Standards: Non-static method JFactory::getDate() should not be called statically in /customers/4/9/a/stevnsvig.com/httpd.www/electronics/libraries/joomla/html/html.php on line 225 Strict Standards: Non-static method JLoader::import() should not be called statically in /customers/4/9/a/stevnsvig.com/httpd.www/electronics/libraries/loader.php on line 186 Strict Standards: Non-static method JFactory::getLanguage() should not be called statically in /customers/4/9/a/stevnsvig.com/httpd.www/electronics/libraries/joomla/factory.php on line 427 Monday, 02 August 2010 21:33

Welcome to my hobby page.

 

People who know me will have associated med with Gyro Gearloose or "Shell-man" (in danish: Ole Opfinder, which means Ole the Inventor). I have made a few "hacks" in my time - from solving different problems without the proper tools, to making modifications to my doorbell and a remote switch and ringlight for my camera.

This site is about my adventures in electronics.

 

I started on a project intending to convert a busted RC tank to a robot, but a careless stowaway and an adventurous cat (who tore it down so it broke) put an effective stop to that plan. So whether it'll be an intervallometer for my camera, a robotic car, a quadcopter (I have a keen eye on the arducopter project), or an alternate to a mouse for the elderly - I hope the projects will start shwing up on this page.

 

for now, welcome.

 

 

/Jonas

Strict Standards: call_user_func_array() expects parameter 1 to be a valid callback, non-static method JHTML::date() should not be called statically in /customers/4/9/a/stevnsvig.com/httpd.www/electronics/libraries/joomla/html/html.php on line 91 Strict Standards: Non-static method JFactory::getConfig() should not be called statically in /customers/4/9/a/stevnsvig.com/httpd.www/electronics/libraries/joomla/html/html.php on line 222 Strict Standards: Non-static method JFactory::getDate() should not be called statically in /customers/4/9/a/stevnsvig.com/httpd.www/electronics/libraries/joomla/html/html.php on line 225 Strict Standards: Non-static method JLoader::import() should not be called statically in /customers/4/9/a/stevnsvig.com/httpd.www/electronics/libraries/loader.php on line 186 Strict Standards: Non-static method JFactory::getLanguage() should not be called statically in /customers/4/9/a/stevnsvig.com/httpd.www/electronics/libraries/joomla/factory.php on line 427 Last Updated on Monday, 02 August 2010 21:55
Strict Standards: Non-static method JLoader::import() should not be called statically in /customers/4/9/a/stevnsvig.com/httpd.www/electronics/libraries/loader.php on line 186 Strict Standards: Non-static method JLoader::register() should not be called statically in /customers/4/9/a/stevnsvig.com/httpd.www/electronics/libraries/loader.php on line 71 Strict Standards: Non-static method JLoader::load() should not be called statically in /customers/4/9/a/stevnsvig.com/httpd.www/electronics/libraries/loader.php on line 161 Strict Standards: Non-static method JLoader::register() should not be called statically in /customers/4/9/a/stevnsvig.com/httpd.www/electronics/libraries/loader.php on line 138 Strict Standards: Non-static method JLoader::import() should not be called statically in /customers/4/9/a/stevnsvig.com/httpd.www/electronics/libraries/loader.php on line 186